Brixham and William Prince Of Orange
Portrait of William III by Jan Wyck,
William III landing at Brixham, Torbay,
5 November 1688
A full-length portrait above, facing to left on a rearing white horse. Prince William of Orange (as he then was) wears a buff coat which is perhaps of leather, embroidered with gold and lined with pink silk. A black hat with a white feather surmounts a black full-bottomed wig and his legs are encased in black boots. Around his waist is a heavily gold-fringed red sash and he wears the ribbon and Star of the Garter. The horse is wearing a blue shabracque, or blanket, with the Orange arms in gold, and stands on a rise in the land looking over towards Torbay
This painting is dominated by the image of William astride his white horse, although he is not thought to have owned a white horse - his death in 1702 resulting from a fall from the roan he usually seems to have ridden. White horses symbolise the heavens, justice and holiness endowed with sacred status. In this context, white is used to signify kingship. The bay can be seen below the belly of the horse and the positioning of the rider symbolises his domination over the kingdom, reinforced by the boot and spur. He is intentionally out of scale with the rest of the painting, the figures in the background and shipping in the bay make the point that this is a statement about domination. This portrait is in the custody of the National Maritime Museum, London. Regrettably not on display but prints can be purchased from the National Maritime Museum London.
The son of Charles I's daughter Mary, Prince William (1650-1702) had married Mary, daughter of his cousin James, Duke of York, in 1677. James had then already converted to Roman Catholicism, which produced a series of political crises after he succeeded to the throne as James II on the death of his elder brother, Charles II, in 1685. These eventually led to a cabal of powerful English Protestant figures inviting William to usurp the British throne, based on the right of succession of his wife, Mary. Although initially unwilling to do so, the threat to the Protestant Netherlands from Louis XIV of France provided a strong incentive for William to accept. He thereby secured Britain as a close ally, rather than as a divided neighbour at best through James's French sympathies.
The Landing at Torbay
It was when England's glorious sun in sixteen eighty-eight,
Was overcast with treason's cloud, and Popery stood elate,
That up arose her Protestants, the peasant and the peer,
And vowed the chain of perjured James that they would not dain to wear;
They sought them out a prudent chief to guide their ardent zeal,
To lead them on that victory might bless their flashing steel,
And who so fit to guide that host in all its bright array,
As William, prince of orange, ere he landed at Torbay.
Then up arose the mighty chief and left his native shore,
And rode upon the stormy waves our freedom to restore;
Upon his flag was blazon'd forth high fluttering o'er the main,
That our religion and our laws he ever would maintain;
'Twas then in gallant style he stood upon the vessels prow,
With victory on his flashing sword and wisdom on his brow,
And tens of thousands greeted him upon his natal day,
When he our glorious Orange chief first landed at Torbay.
Come brethren of the Orange bond, a bond ne'er to be riven,
When e'er we give great William's name, a bumper must be given,
For if you fire a feu-de-joie, to him who victory won,
Come prime and load, and see you give a good charge to your gun;
The eloquence of bumpers full, there's nothing can surpass,
There's nought expresses kindred souls, like friendship's social glass,
And thus we give our song and toast with three time three, huzza,
The memory of King William and his landing at Torbay.
In 1688 he agreed and on 5 November landed unopposed at Brixham, Torbay. He was welcomed in south-west England - which had suffered the retribution of James's 'Bloody Assize' following the defeat of the Duke of Monmouth's rebellion at Sedgemoor, Somerset, in 1685 - and was only briefly resisted by a few of James's Irish Catholic troops at Reading, west of London. These were routed when the citizens of Reading also turned on them and William arrived at St James's, London, on 18 December 1688. On James II's flight (which he abetted) William refused to accept the throne by right of conquest.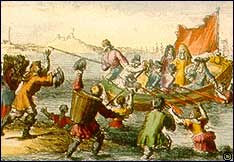 De Hooghe's image of the landing at Brixham
On his assumption of executive power he (William) and Princess Mary were made jointly king and queen by declaration of right, drawn up by committee of the Convention Parliament, and were crowned on 11 April 1689. It is the only example in modern British history of a joint monarchy, in which William took precedence when in England and Mary (d. 1694) ruled in her own superior right, by birth, during his frequent absences to the Netherlands.
Although William was never personally popular, his reign became symbolic of the Protestant succession, the revolutionary Act of Settlement of 1701 and resistance to French domination in Europe. He was also highly intelligent, well-educated and an able statesman of European reputation. Dutch influences which followed him to England - especially in finance and civil engineering - made his reign one of considerable practical advance, as well as re-forging Anglo-Dutch links after the three Anglo-Dutch wars of 1652-74.

For some of the regiments raised in the cause of William of Orange click HERE
Beyond 1688
Plymouth District LOL 64,
Annual Brixham Commemoration parade 2004
The picturesque town of Brixham, Devon again played host to an invasion of protestants on 5 November 2004. It was the setting for a peaceful Orange Institution parade and Divine Service to commemorate the landing of William of Orange on these shores.
Orange Sisters and Brethren had travelled from all over the United Kingdom to attend this important event in the Orange calendar.
The Provincial Grand Master of the Metropolitan Province, Rt. Wor. Bro. Garry Mills, District Master of Plymouth District, welcomed the Sisters and Brethren and gave an address (Click here for the address). All present participated in a rousing Service of Praise and Commemoration conducted by Rt. Wor. Bro. Tom Jackson, HDGC.